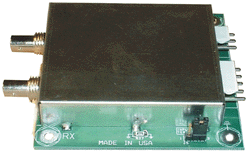 SYSTEM

| | |
| --- | --- |
| Transmission: | Up to 6500 ft. (2 Km) with suitable graded index fiber optic cable |
| Typical Bit Error Rate: | Better than 10-9 |
ELECTRICAL SIGNAL INPUT/OUTPUT
FOR TRANSMITTER AND RECEIVER

| | |
| --- | --- |
| Format: | RS422 |
| Duty Cycle: | 0 to 100% |
| Minimum Pulse Width: | 50 nanoseconds |
| Data Rate: | 2400 bps to 20 Mbps |
| Input impedance: | Selectable 120 ohm or Hi impedance |
| Output Impedance: | Standard RS422 |
OPTICAL TRANSMITTER
Transmitter Output:
20 microwatts (-20 dBm) into 50 micron fiber
Wavelength:
820 nanometers (1300 nm option)
Emitter Type:
LED (lensed)
Optical Connector:
ST or SMA compatible metal
receptacle
OPTICAL RECEIVER

| | |
| --- | --- |
| Wavelength: | 820 to 900 nanometers (1300 nm option) |
| Minimum Sensitivity: | (BER <10-9) 2 microwatts (-30 dBm) @ 820 nanometers |
| Maximum Sensitivity: | 20 microwatts |
| Optical Connector: | ST or SMA compatible metal receptacle |
| Operating Temperature: | 0 °C to 85 °C |
| PCB Size: | 3.0 x 3.0 in. (7.6 x 7.6 cm) |
| Weight: | 0.12 lbs (60 grams) |
| Stand Alone Version: | 2857 |
| Option: | Conformal Coat (JH75004) |
| Relative Humidity: | 100% |
TRANSMISSION LINE INTERFACE


Operating distance is dependent upon optical fiber core diameter and the cable's optical attenuation. The table below indicates three cables that may be used at any data rate. These cables are available in connectorized assemblies to meet the exact configuration of your application.

S.I.Tech offers complete links including fiber optic cable, connectors, cable assemblies, and Bit-Drivers®.
Pin Assignment - Transmitter/Receiver Board

Connector
Pin No.
(Left to Right)
Description
5-Pin*
5
4
3
2
1
RS422 Input-
RS422 Input+
Ground
RS422 Output-
RS422 Output+
3-Pin**
3
2
1
Ground
No Connect
Power Input
* ITW PANCON CE56 F20-5-C or Equivalent
** ITW PANCON CE156 F20-3-C or Equivalent
Power Input: Optional +5VDC or +12VDC operation at
200mA maximum.
---
UL Listed. Meets FCC requirements of Class A, Part 15 Computing Devices Standard.
Specifications subject to change without notice.
---