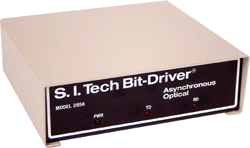 Operation Mode:
Asynchronous, simplex or full duplex, 20 Mbps
Input/Output Interface:
TTL, 50 or 75 ohm coax. BNC bulkhead jack
Transmission Line Interface:
2 ST fiber optic receptacles (SMA option)
Transmission Distance:
See distance chart
Transmitter Output Power:
30 microwatts into 50 micron fiber
Wavelength:
820 nanometers (1300 nm option)
Receiver Wavelength:
820 nanometers (1300 nm option)
Minimum Sensitivity:
3 microwatts @ 820 nanometers
Bit Error Rate:
10-9
Operating Temperature:
0 °C to 50 °C
Metal Enclosure:
7.5" x 7" x 3"
(19 x 17.8 x 7.6 cm)
Weight:
3 lbs. (1.36 kg)
Input Power:
110 VAC 50/60 Hz
230V Version:
2856V
Mini Version:
2817-T/R
S.I. Tech Model 2856 is designed to convert TTL data to a light signal so that information can be transmitted over fiber optics. At the remote end, another 2856 will convert this data from light to TTL format.
---
UL Listed. Meets FCC requirements of Class A, Part 15 Computing Devices Standard.
Specifications subject to change without notice.

---