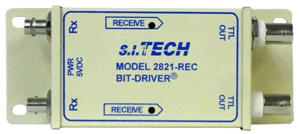 SYSTEM
| | |
| --- | --- |
| Transmission: | Up to 6500 ft. (2 Km) with suitable graded index fiber optic cable or 10 Km using single mode fiber |
| Typical Bit Error Rate: | Better than 10-9 |
ELECTRICAL SIGNAL OUTPUT FOR RECEIVER
Format:
TTL
Connector:
BNC
Data Rate:
DC - 50 Mbps
Output Impedance:
TTL levels into 50-Ohms
Input Power:
9-32VDC 1.5W Max.
Optional 5VDC@250mA
OPTICAL RECEIVER
Wavelength:
820 nanometers (1300nm and 1500nm option)
Minimum Sensitivity:
(BER 10-9) 3 microwatt (-25dBm) @820 nenometers
Optical Connector:
ST
Operating Temperature:
0°C to 50°C (optional extended temp for multimode)
Size:
5.125" X 2.125" X 1.0"
(13.00 X 5.40 X 2.54 cm)
Weight:
6 oz (170 Grams)
TRANSMISSION LINE INTERFACE
Operating distance is dependent upon optical fiber core diameter and the cable's optical attenuation. The table below indicates three cables that may be used at any data rate. These cables are available in connectorized assemblies to meet the exact configuration of your application.
S.I.Tech offers complete links including fiber optic cable, connectors, cable assemblies, and Bit-Drivers.
Model 2821 consist of 2 850nm or 1310nm Receivers or 850nm and 1310 receiver.
---
UL Listed. Meets FCC requirements of Class A, Part 15 Computing Devices Standard.
Specifications subject to change without notice.

---