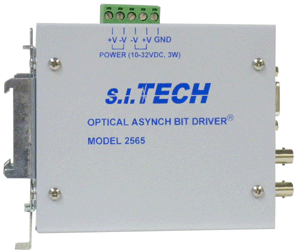 Operation Mode:
Asynchronous, simplex or half duplex
Input/Output Interface:
DB9-S
Transmission Line Interface:
Metal ST connector is standard for interfacing with fiber optic duplex cable (SMA option, FC option for SM)
Transmission Distance:
See Distance Chart
Optical Power into a 62.5 Micron Core Optical Fiber:

20 microwatts, 10 dB power budget @ 820 nanometers (1300 nm Option)
Receiver Sensitivity:
2 microwatts at less than 10-9 bit error rate
Operating Temperature:
-40°C to 80°C Multimode
-20°C to +60°C Single mode
Metal Enclosure:
4.15" X 3.65" X 1.21"
(10.54 X 9.27 X 3.0 cm)
DIN Rail Mounting
Weight:
0.75 lb. (340 grams)
Input Power:
10 to 32VDC, 3W
Features:
Up to 115 Kbps/CH asynchronous operation on fiber optic cable, simplex or full duplex operation with 2 channels
2 channels RS-232
-40°C to 80°C operating range (-20°C to +60°C SM)
Metal ST connector receptacle (SMA option)
LED indicators for power, transmit and receive data
Female DB-9 connector
DIN Rail Mounting
---
UL Listed. Meets FCC requirements of Class A, Part 15 Computing Devices Standard.
Specifications subject to change without notice.
---
Interface Options: Multiplexer
RS-232: 1 or 2 Channels (115 Kbps)
RS-422: 1 or 2 Channels (115 Kbps)
RS-485: 1 or 2 Channels (115 Kbps)
Related Products
2560 / 2561 / 2562
2360 cards and 3000 rack