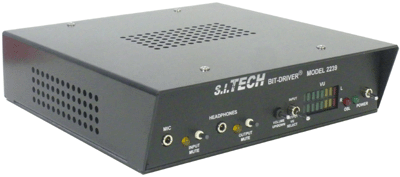 Audio Bandwidth:
10 Hz to 20 KHz
THD:
Better than 1%
MIC Input:
350mV rms max into 6 Kohms
Line Input:
2V rms max into 10 Kohms
Headphone Output:
1V rms max
Line Outputs:
1.8V rms into 600 ohms
Speaker Outputs:
1W max into 8 ohms
Optical Power Budget:
10 dB
Operating Wavelength:
820 nanometers (1300nm optional)
Optical Interface:
ST (SMA optional)
Operating Temperature:
0 °C to 50 °C
Input Power:
110 VAC 50/60 Hz,
Optional 230 VAC
Optional 12-24 VDC
8 W Max.
Metal Enclosure:
7.375" X 7.625" X 1.875"
(18.7 X 19.4 X 4.8 cm)
Weight:
2lbs. (1 kg)
Models 2239 provides two-way stereo audio over fiber. Typical applications include paging systems, music distribution, and control with audio tones, two way audio communication.
The 2239 has 1/8" (3.5mm) microphone input and stereo line level phono jack inputs. The 2239 digitizes the audio input into 16-bit samples at 48KHz rate. The microphone input is copied to both channels, the two line inputs remain in respective channels. The digitized stereo audio is transmitted across fiber and received at the 2239. The 2239 converts the digitized audio back to analog. The 2239 has 1/8" headphone jack, line level phono jacks, and speaker phono jacks.
The 2239 has line input volume adjustment to maximize the use of the digitized channel and speaker/headphone volume adjustment. The 2239 has optical signal loss LED. Local and remote 2239 have mute buttons.
---
UL Listed. Meets FCC requirements of Class A, Part 15 Computing Devices Standard.
Specifications subject to change without notice.
---