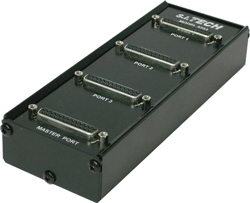 | | |
| --- | --- |
| Leads Supplied: | Pins 1 - 8,15,17,20 |
| Main Channel Interface: | DTE |
| Protocol: | Synchronous or Asynchronous |
| Subchannel Interface: | DCE |
| Interface: | RS-232 (Master port DTE, slave ports DCE) |
| Connectors: | MS - 3: (4) DB25 F |
| Size: | (19.2 X 6.4 X 3.3 cm) |
| Weight: | 2 lb. (0.9 kg) |
---
Meets FCC requirements of Class A, Part 15 Computing Devices Standard.
Specifications subject to change without notice.
---
Features:
Modem sharing for three users. Connect multiple terminals to one modem and save on the expense of extra modems and lines.
Perfect for office or workgroups that perform limited data communications or only connect to the Internet occasionally.
Inexpensive, non-powered, easy to use.
Works equally well in sync or async environments.
Transparent to speed and protocol.