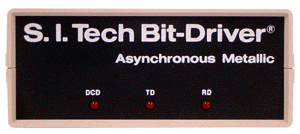 Operating Mode:

Asynchronous, simplex or full
duplex.

Input/Output Interface:

RS-232-C, Type D Asynchronous at DC to 56 kbps

Transmission Line Interface:

Balanced two-pair metallic circuit

Transmission Line Resistance:

150 ohms (maximum) one way

Transmission Line Protection:

Protected at 8 volts up to 50 Amp pulses

Operating Temperature:

0 °C to 50 °C

Input Power:

105 to 130 VAC, 50-500 Hz, 10 W Power transformer secondary fused

Plastic Enclosure:

6.5" X 2.75" X 6.5"
(16.5 X 7 X 16.5 cm)

Weight:

2.2 lb.(1 kg)

230 Volt Version:

Model 9338V
---
UL Listed. Meets FCC requirements of Class A, Part 15 Computing Devices Standard.
Specifications subject to change without notice.
---
Model 9338 combines connector to connector compatibility with outstanding performance characteristics. It supports full duplex transmission between RS-232-C compatible EDP equipment at distances up to 15,000 feet. It operates at speeds from 110 bps to 56 Kbps.

An asynchronous, simplex or full duplex system for in house and other short-haul data transmission applications. A complete stand-alone component with RS-232 interface, 120 volt power cord, plus input and output transmission connections.

LEDs are used to indicate the presence of carrier and data signaling over the data path.

S.I.Tech will provide the best possible system solution for the operating environment of your data network. The Bit Rate/Distance chart shows typical cables and performance characteristics with S.I.Tech Bit-Drivers®.

S.I.Tech offers complete links including fiber optic cable, connectors, cable assemblies and Bit-Drivers®.