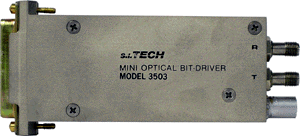 Operation Mode:
Asynchronous/synchronous, full duplex with control signals
Input/Output Interface:
RS-232-C, Type D, connects to terminal (RS232 cable not required)
Transmission Line Interface:
SMA connector is standard for interface with fiber optic duplex cable (ST option)
Optical Power into a 50 Micron Core Optical Fiber:

1 microwatt, 15 dB power budget @ 850 nanometers
Receiver Sensitivity:
30 nanowatts at less than 10-9 bit error rate
Operating Temperature:
-20°C to +85°C
Metal Enclosure:
1.67" X 4" X 0.87"
(4.25 X 10.2 X 2.2 cm)
Input Power:
External with power supply (S.I.Tech #2103 - 110/230 VAC to 12 VDC)
Weight:
0.37 lb.(190 grams)
Features:
Full duplex synchronous DC to 9.6 Kbps, asynchronous DC to 19.2 Kbps with control signals
6600 ft. (2 Km) maximum distance capability
-20°C to +85°C operating range
SMA connector receptacle
Switch selectable speeds in sync operation
Designed to meet TEMPEST specification
---
Meets FCC requirements of Class A, Part 15 Computing Devices Standard.
Specifications subject to change without notice.
---