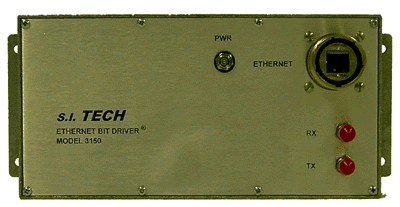 Operation Mode:
10 Base-T/100 Base-TX and
10 Base-FL/100 Base-FX,
Auto 10/100 Sensing
Input/Output Interface:
Shielded RJFTV for harsh
environment
Transmission Line Interface:
ST optical connector is standard
Transmission Distance:
See distance chart
Transmitter Output Power:
30 Microwatts into 62.5/125
micron fiber
System Wavelength:
1300 nm Multimode (Single mode
Option)
Data Rate:
10/100 Mbps
Bit Error Rate:
10-9
Receiver Sensitivity:
10 Microwatts @ 1300 nanometers
Operating Temperature:
0°C to 50°C
Metal Enclosure:
9.37"X4.25"X1.75" (23.8X10.8X4.4 cm) Totally shielded
Input Power:
External with power supply (S.I.Tech #2164 - 100 to 240 VAC, 50/60 Hz, to 12VDC, UL, CSA, CE, & TUVGS Listed)
Weight:
2 lbs
Features:
Supports 10 Base-T/100 Base-TX and 10 Base-FL/100 Base-FX Standard
Designed for use in harsh environment
ST optical connectors
Auto senses between 10 and 100 Mbps speeds
Plug & Play - No Setup Required
Improved EMI/RFI protection
S.I.Tech 3151 Ethernet media converter is designed for use in a harsh environment and connection of Ethernet based equipment over fiber optic cable at 10 Base-T/100 Base-TX and 10 Base-FL/100 Base-FX. It uses Multimode or Single mode fiber with ST connectors. Model 3151 auto senses and switches between 10 and 100 Mbps.
Notes:
The 3151 and 2151 pair auto negotiates between 10 Base-T and 100 Base-Tx and chooses the best mode of operation (half/full duplex,10/100 Mbps). If one of the connecting ports also supports operation at 1000 Base-T - Gigabit (e.g.,10/100/1000Mbps NIC), the 3151 and 2151 pair will auto negotiate to the best mode of operation not exceeding 100 Mbps however, one of the connecting ports must be limited to 10 or 100 Mbps operation.
Use with metallic plug, using tri start thread coupling mechanism (Mil-DTL-38999 series III type) with anti-decoupling device for high vibration.
Applications: railways, radars, shelters, battle field communication systems, navy, shield rooms.
---
Meets FCC requirements of Class A, Part 15 Computing Devices Standard.
Specifications subject to change without notice.
---