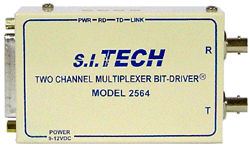 Operation Mode:
Asynchronous, simplex or full duplex
Input/Output Interface:
2 CH RS422 Multiplexer DB25 connector
Transmission Line Interface:
Metal ST connector is standard for interfacing with fiber optic duplex cable (SMA option, FC option for SM)
Transmission Distance:
See Distance Chart
Optical Power into a 62.5 Micron Core Optical Fiber:

20 microwatts, 10 dB power budget @ 820 nanometers (1300 nm Option)
Receiver Sensitivity:
2 microwatts at less than 10-9 bit error rate
Operating Temperature:
-40°C to 85°C Multimode
-20°C to +60°C Single mode
Metal Enclosure:
3.6" X 2.3" X 1.2"
(9.1 X 5.84 X 3.0 cm)
Weight:
0.4 Ib. (185 grams)
Input Power:
9 to 12VDC, 200mA
Features:
2 Channel RS422 Multiplexer
Up to 180 Kbps asynchronous operation, each channel
Full duplex RS422
Metal ST connector receptacle (SMA option)
LED indicators for power, optical link status, transmit and receive data
Multimode or single mode
DIN rail or panel mounting option
S.I.Tech 2564 is a unique Bit-Driver. The two channel RS422 electrical interfaces are totally independent and share combined fiber link.
---
UL Listed. Meets FCC requirements of Class A, Part 15 Computing Devices Standard.
Specifications subject to change without notice.
---