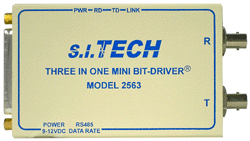 Operation Mode:
Asynchronous, simplex or full duplex
Input/Output Interface:
Fully independent RS232/RS422/RS485, asynchronous concurrent. DB25 connector
Transmission Line Interface:
Metal ST connector is standard for interfacing with fiber optic duplex cable (SMA option, SC and FC option
for SM)
Transmission Distance:
See Distance Chart
Optical Power into a 62.5 Micron Core Optical Fiber:

20 microwatts, 10 dB power budget @ 820 nanometers (1300 nm Option)
Receiver Sensitivity:
2 microwatts at less than 10-9 bit error rate
Operating Temperature:
0°C to 50°C for Multimode
(Extended Temp. Option -20°C to +70°C)
Metal Enclosure:
3.6" X 2.3" X 1.2"
(9.1 X 5.84 X 3.0 cm)
Bracket Optional
Weight:
0.4 Ib. (185 grams)
Input Power:
9 to 12VDC, 200mA
Features:
Concurrent, fully-independent RS232, RS422, and RS485 communication channel over a one duplex fiber optic cable (data is multiplexed over fiber link)
Up to 115kbps asynchronous operation
Full duplex RS232 and RS422

Optional tri-state control for bus RS422 systems

Half duplex RS485

Rotary switch sets the RS485 bit rate

Metal ST connector receptacle (SMA option)
Female DB25 connector RS232 wired as DCE device
LED indicators for power, optical link status, transmit and receive data
Optical link status pin
Multimode or single mode
DIN rail mounting option
S.I.Tech 2563 is a unique Bit-Driver allowing simultaneous communication using RS232, RS422, and RS485. Each electrical interface is totally independent and share a combined fiber link. This way equipment with different interfaces can be connected over the same fiber i.e. in a manufacturing plant.
---
UL Listed. Meets FCC requirements of Class A, Part 15 Computing Devices Standard.
Specifications subject to change without notice.
---