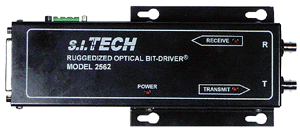 Operation Mode:
Asynchronous, half duplex
Input/Output Interface:
RS-485, DB25F connector
Transmission Line Interface:
Metal ST connector is standard for interfacing with fiber optic duplex cable (SMA option, SC and FC option
for SM)
Transmission Distance:
See Chart
Optical Power into a 62.5 Micron Core Optical Fiber:
30 microwatts, 10 dB power budget @ 820 nanometers (1300 nm Option)
Receiver Sensitivity:
3 microwatts at less than 10-9
bit error rate
Operating Temperature:
-40°C to +80°C for Multimode
-20°C to +60°C for Single mode
Humidity:
0 to 90% Non Condensing
Metal Enclosure:
7.25 X 2.28 X 1.3 in
(18.4 X 5.8 X 3.3 cm)
Weight:
0.9 lb. (400 grams)
Input Power:
85 V to 265 VAC or DC
(+24 VDC and -48 VDC Option)
Card Version:
S.I.Tech #2361 with
Series 3000 Rack
Features:
Up to 115 Kbps asynchronous operation on fiber optic cable, half duplex operation
-40 °C to 80 °C operating range
Metal ST connector receptacle (SMA option)
LED indicators for power, transmit, and receive data
Female DB25 connector
Complies with IEEE C37.90.1
IEC 801 Surge Protection
Panel Mounting Brackets, two mounting locations
Conformal coating
See distance chart
---
UL Listed. Meets FCC requirements of Class A, Part 15 Computing Devices Standard.
Specifications subject to change without notice.
---