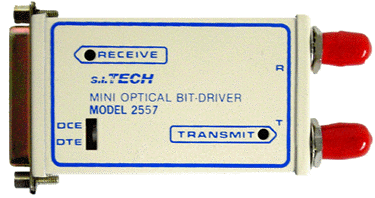 Operation Mode:
Asynchronous, simplex or full duplex
Input/Output Interface:
RS-232-C, Type D Asynchronous to 115.0 Kbps, connects directly to Terminal (RS-232 cable not required)
Transmission Line Interface:
ST connector is standard for interfacing with fiber optic duplex cable (SMA option)
Transmission Distance:
1000 ft. (300 m)
Optical Power into a 50 Micron Core Optical Fiber:

0.5 microwatt, 10 dB power budget @ 820 nanometers
Receiver Sensitivity:
50 nanowatts at less than 10-9 bit error rate
Operating Temperature:
0°C to 50°C
Metal Enclosure:
1.75 x 3 x 0.625 in
(4.5 x 7.5 x1.6 cm)
Weight:
0.25 lb (100 grams)
Input Power:
Host supplied or pin 9
Features:
50 to 115 Kbps asynchronous operation on fiber optic cable, simplex or full duplex operation
1000 ft (300 m) distance capability.
0 °C to 50 °C operating range
ST connector receptacles (SMA option)
DTE or DCE switch selectable
Mini Bit-Driver is powered by DTE (RS-232 Self-powered)
LED indicators for transmit and receive data
Male or female RS-232C (V.24) connectors
---
UL Listed. Meets FCC requirements of Class A, Part 15 Computing Devices Standard.
Specifications subject to change without notice.
---