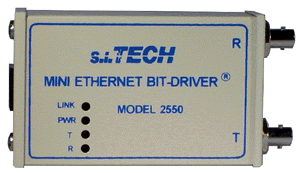 Operation Mode:
10 Base - FL/FOIRL
Input/Output Interface:
ST optical connector standard (SMA option)
Transmission Distance:
See distance chart
Transmitter Output Power:
30 µW into 62.5/125 micron fiber
Wavelength:
820 nanometers (1300 nm option)
Data Rate:
10 Mbps
Collision Frequency:
10 MHz
Bit Error Rate:
10-9
Receiver Sensitivity:
3 µW
Operating Temperature:
0 °C to 50 °C
Metal Enclosure:
2.0 x 3.5 x 1.0 in
(5.0 x 8.90 x 2.54 cm)
Weight:
0.25 lb (100 grams)
Input Power:
External with power supply
(S.I.Tech #2121 - 110 VAC to 12 VDC)
230V Version:
S.I.Tech #2164 power supply
Rack Mount Version:
2350 (3000 rack)
Features:
Supports 10 Base - FL or FOIRL Standards
Small size
Link Status, Receive Data, Transmit Data, and Power LED indicators
ST or SMA optical connectors
S.I.Tech 2550 Ethernet Fiber Optic Transceiver is a compact adapter for connection of Ethernet based equipment to any fiber optic 10 Base FL / FOIRL network. The transceiver connects to RJ45 and provides ST or SMA fiber optic connectors.
Four LED indicators provide a visible verification of transmission status and transceiver functions.
---
Meets FCC requirements of Class A, Part 15 Computing Devices Standard.
Specifications subject to change without notice.
---