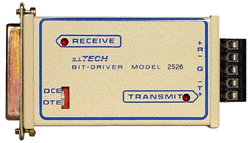 FEATURES and SPECIFICATIONS
50 to 19.2 Kbps asynchronous operation on dedicated
4 - wire (2 pair) cable (private lines)
Simplex or full duplex
1 mile (2 Km) distance capability
LED indicators for transmit and receive data
0°C to 50°C operating range
Male or female RS-232C (V.24) connectors
Mini Bit-Driver is powered up by DTE pin 9 or external power supply, S.I.Tech 2101
Switch selectable DTE or DCE operation
Size: 3" X 1.75" X 0.69" (7.6 X 4.4 X 1.75 cm)
Panel or DIN rail mounting option
Weight: 0.25 lb. (100 grams)
For 110 VAC use S.I.Tech 2101, for 230 VAC use S.I.Tech 2102 power supply
The S.I.Tech Model 2526 combines connector to connector compatibility with outstanding performance characteristics. It supports full duplex transmission between RS-232-C compatible EDP equipment at distance up to one mile (2 Km) over 24 AWG cable pairs, at speed from 50 bps to 19.2 Kbps.
---
Meets FCC requirements of Class A, Part 15 Computing Devices Standard.
Specifications subject to change without notice.
---