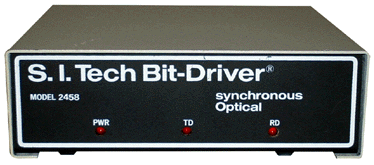 Operation Mode:
Asynchronous, RS422 simplex or full duplex. RS485 half duplex.
Input/Output Interface:
RS422/RS485 up to 76.8 Kbps
Input/Output Connector:
37 pin female (DB37)
Phase Distortion:
Less than 10%
Optical Connector:
ST standard (SMA option)
Transmission Distance:
6600 ft. (2 Km, 5 Km option)
Optical Power into a
62.5/125 micron Fiber:

10µW (50µW option)
Receiver Sensitivity:
0.5 Microwatt @ 10-9 BER
System Wavelength:
850 nm, (1300 nm option)
Bit Error Rate:
10-9
Operating Temperature:
0 °C to 50 °C
Metal Enclosure:
7.5"X7"X3" (19X17.8X7.cm)
Weight:
3 lbs. 1.36 kg) Rack 6 lbs. (2.72kg)
Input Power:
105 to 130 VAC 60 Hz
230 Volt Version:
2428V/2458V
Model 2428/2458 is an 8 channel communication system providing 8 Bit-Driver links using one optical cable interface.

The 2428 provides 8 full duplex RS422 channels for any data rate on any channel(s) up to 76.8 Kbps.

The 2458 provides 8 half duplex RS485 channels. The data rate must be set at the factory for data rate up to 76.8 Kbps.
---
UL Listed. Meets FCC requirements of Class A, Part 15 Computing Devices Standard.
Specifications subject to change without notice.

---