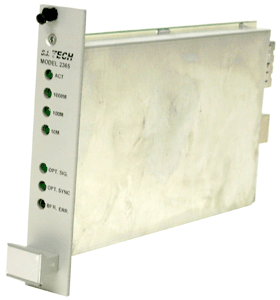 Operating Mode:
10/100/1000Base-T to Fiber
Ethernet Interface:
Shielded RJ-45
Fiber Interface:
SC Connector Std. (LC option)
Transmission Distance:
See distance chart
System Wavelength:
850, 1310 nm or 1550 nm
Data Rate:
10/100/1000 Mbps
Bit Error Rate:
10-12
Operating Temperature:
0 °C to 70 °C
Input Power:
100/240VAC 50/60Hz (Rack)
UL, CSA, CE
Enclosure:
19" rack holds 16 cards
Card Size:
Eurocard 3.9" X 6.8"
(9.9 X 17.3 cm)
Weight:
0.5 lb (200 grams)
Features:
Compatible with 2160-10/100/1000
Supports IEEE 802.3x 10/100/1000Base-T/1Gbps twisted pair link
Meets IEEE 803.3x clock jitter and frequency variation specifications.
Automatic speed detection and adjustment 10/100/1000
Full duplex operation
Auto MDI/MDI-X (Automatic detection of straight or crossover twisted pair cables)
Automatic master/slave determination
SC optical connectors standard (LC for SM)
LED Indicators:

Optical Sync
Optical Signal
10/100/1000 Operation
Activity
Buffer Error

Available with 850nm multimode or 1310nm or 1550nm single mode optics
Multiple optical power configurations to support 5, 10, 20 to 80 Km fiber runs (single mode only)
The S.I.Tech 2365 Bit-Driver card is intended to extend the length of Ethernet links to up to 80Km for long haul backbone applications. Once installed the 2365's are completely transparent to the system. Units must be installed in pairs or with 2160-10/100/1000. Network timing limitations and fiber attenuation and bandwidth may limit maximum transmission distance to less than maximum.
Note: The PC, Switch, or Hub to which S.I. Tech 2365 is attached must support "Auto Negotiation, i.e. Auto 1000, Auto 100 or Auto 10 Mbps."
---
Meets FCC requirements of Class A, Part 15 Computing Devices Standard.
Specifications subject to change without notice.
---