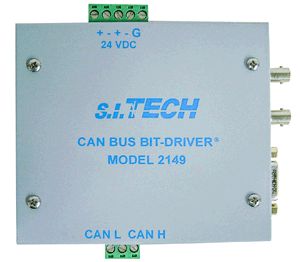 Operation Mode:
Asynchronous, CAN Bus
Input/Output Interface:
CAN Bus Terminal Block
Transmission Line Interface:
ST connector is standard for interfacing with fiber optic cable
Transmission Distance:
See Distance Chart
Optical Power into a 50 Micron Core Optical Fiber:

0.5 microwatt, 10 dB power
budget* @ 880 nanometers
Receiver Sensitivity:
1 microwatt at less than 10-9 bit error rate
Operating Temperature:
0°C to 70°C
Metal Enclosure:
4 x 3.5 x 1 in
(10 x 9 x 2.5 cm)
DIN rail mounting option
Weight:
1 lb
Input Power:
External with power supply
(S.I. Tech #2163-DIN - 110VAC to
24 Volt DC, 130 mA)
230V Version:
Use S.I.Tech 2163-DIN power supply
Features:
Asynchronous, CAN Bus protocol
6600 ft. (2Km) maximum distance capability
0°C to 70°C operating range
ST connector receptacle
Data Speed: 1 Kbps to 1 Mbps
ISO 11898 Specifications
Use 120 Ohm termination at both ends of network
Din Rail Mounting
Status Indicators - Tx, Rx, and Power
Supports CAN 2.0A and CAN 2.0B
CAN Bus (Controller Area Network) is commonly used in various vehicles, automobiles, and industrial automation applications. CAN Bus allows microcontrollers and attached devices to communicate with each other in applications without use of a host computer.

Use of fiber optic repeaters allows electrical isolation between nodes of a network and attached devices, protecting them from electrical surges and providing EMI/RFI immunity. Use of fiber also allows for longer distances between nodes when required. (Observe network turn around timing restrictions)

Electrical isolation provides the benefits of EMI/RFI immunity, electrical surge immunity, less impedance problems and elimination of crosstalk.
---
UL Listed. Meets FCC requirements of Class A, Part 15 Computing Devices Standard.
Specifications subject to change without notice.
---