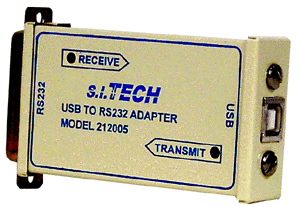 Operation Mode:
Asynchronous
Input Interface:
USB
Output Interface:
RS-232-C, Serial Data
Operating Temperature:
0 °C to 50 °C
Metal Enclosure:
1.75 x 3 x 0.625 in
(4.5 x 7.5 x1.6 cm)
Weight:
0.25 lb (100 grams)
Power:
Powered from USB port of a
computer
Features:
Plugs directly into S.I.Tech 2005 DB25 connector
Connects to any PC with USB port use S.I.Tech #7105 USB Cable
300 to 115.2 Kbps Data Rates
Works with Model 2005 Bit-Driver
Note: Requires virtual COM port (VCP) drivers supplied on disk. VCP drivers map a COM port to 212005. COM port assignment is found in Windows Device Manager under the ports tab.
---
Meets FCC requirements of Class A, Part 15 Computing Devices Standard.
Specifications subject to change without notice.

---