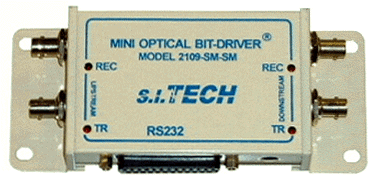 Operation Mode:
Asynchronous, half duplex
Input/Output Interface:
RS-232, up to 115 Kbps
Transmission Line Interface:
ST connectors are standard for interfacing with fiber optic duplex cable (SMA connectors optional)
Optical Power into a 62.5 Micron Core Optical Fiber:

10 microwatts, 13 dB power
budget @ 850 nanometers
(1300nm option)
Receiver Sensitivity:
500 nanowatts at less than 10-9 bit error rate. 50 microwatts max.
Operating Temperature:
0 °C to 50 °C
Input Power:
External power supply (S.I.Tech #2121-110VAC to 12VDC)
Metal Enclosure:
3.6 x 2.3 x 1.0 in
(9.1 x 5.8 x 2.54 cm)
Panel or DIN rail mounting option
Weight:
0.25 lb (100 grams)
S.I. Tech model 2109 is a mini optical Multidrop Bit-Driver. The upstream and downstream fiber ports repeat data through the 2109 multidrop and drop/insert data on the RS-232 port. The RS-232 port inserts data onto the upstream fiber port only, and gets data dropped from the upstream fiber port only. The downstream fiber port only sends/receives data from the upstream fiber port.
RS - 232 DB-25 PIN CONNECTOR - FEMALE
PINS UTILIZED BY 2109 MINI BIT-DRIVER®


Pin No.
Description
Symbol
2
3
7
Transmit Data
Receive Data
Ground
TD
RD
GND
---
Meets FCC requirements of Class A, Part 15 Computing Devices Standard.
Specifications subject to change without notice.

---