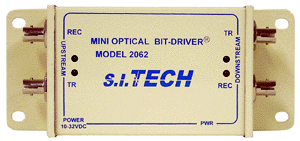 Features:
Up to 20 Mbps full duplex
Designed to work with Arcnet, Ethernet, & Token Ring fiber optic LANs
Up to 2 Km of 50 or 62.5 micron fiber (10 dB budget)
Powered by wall transformer 12 or 24 VDC supply (part # 2121)
Multimode or single mode option
Status indicators - TR and REC
Can be used as fiber size converter e.g. 50 to 62.5 micron
S.I.Tech 2062 is designed to be used as a repeater on fiber optic networks. This repeater extends the distance of fiber optic Arcnet, Ethernet, Token Ring, TTL or T1/E1 links up to 10 Km. This repeater can be configured to convert from multimode to single mode fiber. The 2062 can also be used to convert from one size of fiber to another, e.g. 50/125 to 62.5/125 micron.


---
UL Listed. Meets FCC requirements of Class A, Part 15 Computing Devices Standard.
Specifications subject to change without notice.
---
Operating Mode:
Full duplex NRZ or encoded data
Input/Output Interface:
ST connectors for all fiber sizes
Transmission Distance:
See distance chart
Transmitter Output Power:
10 dB power budget (10 Km single mode option)
Optical Coupled Power:
50 microwatts into 200 micron fiber, 30 microwatts into 62.5 micron fiber, -15dBm into 9 micron fiber
Receiver Sensitivity:
3 microwatts @ 10-9 bit error rate
Metal Enclosure:
5.5" X 2.3" X 1.0"
(14.0 X 5.84 X 2.54 cm)
Panel or DIN rail mounting option
Weight:
0.25 lb (100 grams)
Input Power:
External power supply (S.I.Tech #2121 - 110VAC to 12 VDC)
230V Version:
Use S.I.Tech 2164 power supply
ORDERING INFORMATION

Model Number
Description
2062-00-ST
1000 Micron Plastic Fiber to 50/62.5 Glass Fiber
2062-O-ST
Omron 200 to 62.5 Micron - ST **
2062-ST
Multimode 50/62.5 to Multimode 50/62.5 Repeater - ST
2062-MM/SM-ST
Multimode 50/62.5 to Single mode Converter - ST
2062-SM/SM-ST
Single mode to Single mode Repeater - ST
** Use with S.I. Tech #9402-0008-5568 Fiber Optic Cable Assembly